What is Farm Butler?
Farm Butler is an intelligent open/close unit to chicken's door or to other animal. Farm Butler can also solve other different task related with for example chicken house. Before using Farm Butler, it is important that the documentation on the pages is read and understood. Enjoy!
Some of the tasks that Farm Butler can solve: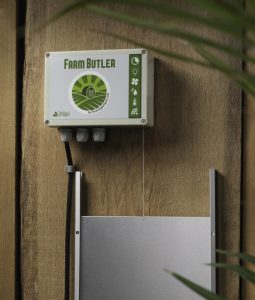 Open

and close a door connected via a cord to the built-in motor.

Turn on and off the light in, for example, the chicken coop, so that the chickens are guaranteed the optimum amount of light compared to optimizing their laying. (14 hours)
Turn on and off for example a heating element in the drinking water so that it does not freeze for ice.
Farm Butler has built in some different sensors and control options:
Motor to open and close a door.

2 relays that can be controlled by time, temperature or light independently of each other.

Light sensor that can measure on the ambient light that can be used to control the relays.

Temperature sensor that measures at ambient temperature that can be used to control the relays.
In addition, Farm Butler also has built-in:
WiFi used for setting up and reading the device

Watch, so Farm Butler can keep track of time even if the product loses power for a period of time.

LED, to indicate Farm Butler's condition.

Press key when resetting the product.
A little more about Farm Butler:
Farm Butler is connected to the mains (90 – 240 VAC) and set from your smartphone, tablet or PC that can be connected via WiFi. When Farm Butler is connected to your wireless network in the home (WiFi), it can be accessed from around the world but only from your own secure account that can be created here.
Below is the configuration page for Farm Butler. Here you set which template Farm Butler should use in relation to automation.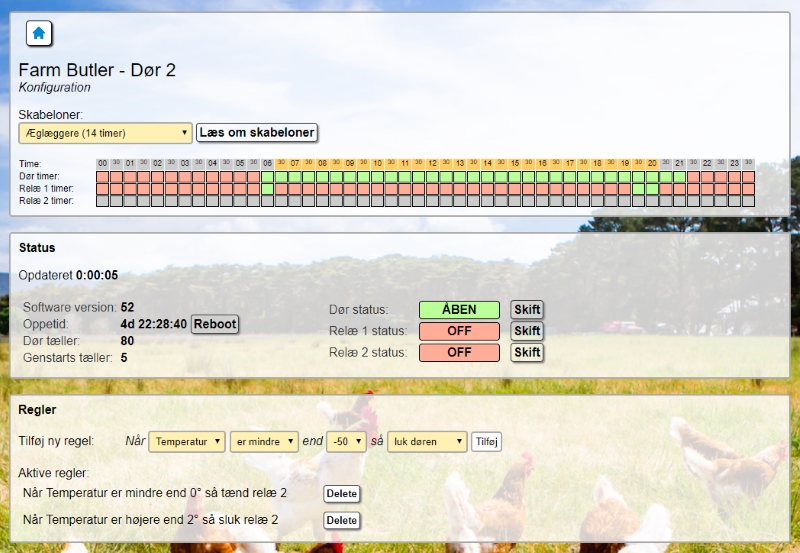 It is possible to see historical data for Farm Butler, which shows both doors, relays, temperature and light level.